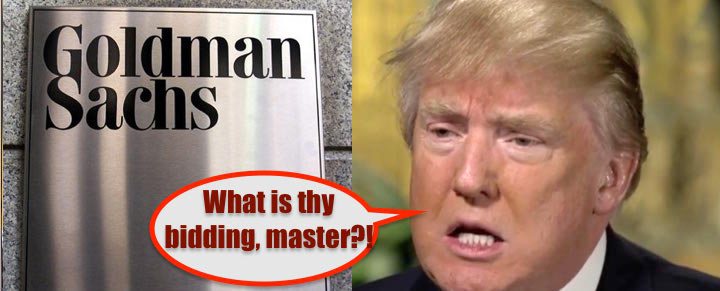 If you find truth and facts about the most critical election since 1860 to be annoying and rude…um, don't read this…
ARTICLE 1.
'Beholden To No One' Trump Owes $650 MILLION To China, And Goldman Sachs!!
POSTED ON AUGUST 20, 2016 BY SOOPERMEXICAN
*SOURCE*
[EXCERPTS.]
An investigation by the New York Times revealed another aspect of Trump's scam that many suspected – he is heavily in debt despite barking that he can't be bought by anyone during the primaries.
…an investigation by The New York Times into the financial maze of Mr. Trump's real estate holdings in the United States reveals that companies he owns have at least $650 million in debt — twice the amount than can be gleaned from public filings he has made as part of his bid for the White House. The Times's inquiry also found that Mr. Trump's fortunes depend deeply on a wide array of financial backers, including one he has cited in attacks during his campaign.
This follows the familiar pattern – Trump projects the sins he commits on his competitors all the time. While saying that his opponents were puppets who had been bought and sold by business interests, he himself is in debt to those same interests.
For example, an office building on Avenue of the Americas in Manhattan, of which Mr. Trump is part owner, carries a $950 million loan. Among the lenders: the Bank of China, one of the largest banks in a country that Mr. Trump has railed against as an economic foe of the United States, and Goldman Sachs, a financial institution he has said controls Hillary Clinton, the Democratic nominee, after it paid her $675,000 in speaking fees…
=======
ARTICLE 2.
Trump Names Former Goldman Partner, Soros Money Manager As Finance Chairman
*SOURCE*
[EXCERPTS.]
…On Thursday, Trump named Steven Mnuchin, the chairman and CEO of private investment firm Dune Capital Management LP, to lead his fundraising.
Mnuchin, according to his Bloomberg profile, was a partner at Goldman Sachs, where he worked for 17 years. He also worked at Soros Fund Management LLC, founded by liberal mega-donor George Soros…
=======
ARTICLE 3.
Donald Trump's new finance guru: once a Clinton donor, Soros employee
Private investor Steven Mnuchin also contributed to Obama, Kerry and Gore
*SOURCE*
[EXCERPT.]
Like Donald Trump himself, the Trump campaign's new national finance chairman has a long history of contributing to Democrats — including Hillary Clinton…
…Over the years, more than half of Mnuchin's federal-level political contributions have benefited Democrats, including President Barack Obama and Clinton…
…About one-third of Mnuchin's giving has benefited Republicans (R.I.N.O.s). The rest has gone to nonpartisan political action committees such as the PAC of Goldman Sachs, where Mnuchin worked for 17 years…
…During the 2000 presidential election, Mnuchin donated to Democrats Al Gore and Bill Bradley…
…And ahead of the 2008 presidential election, Mnuchin donated not only to Obama, Clinton and Edwards, but also to Democrats Chris Dodd and Bill Richardson…
…Mnuchin's contributions to Democrats extend to the current cycle.
For instance, he donated $2,000 in February to the U.S. Senate campaign of California Attorney General Kamala Harris, a Democrat.
=======
ARTICLE 4.

Donald Trump's New Finance Chairman Was

Big

Donor to Hillary Clinton
*SOURCE*
[EXCERPT.]
Presumptive Republican nominee Donald Trump on Thursday said his newly appointed national finance chairman, hedge-fund executive Steven Mnuchin, has the "unprecedented experience and expertise" to "ultimately defeat Hillary Clinton" in November.
A review of public records, however, suggests Mr. Mnuchin has spent more than $7,000 in the past trying to do just the opposite.
The Dune Capital Management chief executive has donated $7,400 to Mrs. Clinton's campaigns since 2000, including the maximum $2,300 to her presidential campaign in 2007. When that campaign failed, he donated the maximum to then-Sen. Barack Obama's presidential campaign…
…Mr. Mnuchin has also given to several other Democratic presidential campaigns over the years, including those of John Edwards, John Kerry and Al Gore. The only Republican presidential candidate he has donated to is 2012 nominee Mitt Romney…
=======
Well, there it is.
Plain as day.
Trump is a fraud pulling a nation-wide scam and con…and ONLY those who wish to be blind and deaf to the facts and truth do not see it.
Our choices are Marxist "A"- Hitlary Clinton, or Marxist "B"- her long-time friend, donor, and cohort, Little, Lying, Liberal Donnie El Trampo. OR Evan McMullin OR write-in Ted Cruz…or a laundry list of Libs and Loons from fringe, independent parties.
I'm writing in a tried, tested and TRUE Christian, Constitutionalist and Conservative, Ted Cruz.
=======
MAJOR UP-DATE!!!
Latest Polls: Swing States (Trump is Done)
REV.'S RANT.
We warned that DT was a Liberal.
We warned that DT was a Democrat-in-Sleeze-Clothing.
We warned that DT was running to clear the G.O.P. field of any and all (real) Conservatives, any of the other 16 candidates would have been FAR BETTER than DT.
We warned that DT was running to get Hitlary elected.
We warned that DT, the Clinton's, ObaMarxist, Soros and other Marxist agents in the Democrat Party planned this since at least the spring of 2015, if not as early as 2012.
WE WARNED- Trump-Bots, R.I.N.O.'s and O.A.L. would not and still are NOT listening.
YOU OWN THIS.
YOU OWN THE DEATH OF AMERICA. THE FINAL STEP IN THE MARCH TO MARXISM.

WE WARNED…WE REJECTED THE MARXIST DELUSION THAT 
YOU

SWALLOWED HOOK, LINE AND SINKER.
YOU OWN THIS- NOT US.
 -Rev. Larry Wallenmeyer.