The People's Liberation Army has successfully sunk a US aircraft carrier, according to a satellite photo provided by Google Earth, reports our sister paper Want Daily — though the strike was a war game, the carrier a mock-up platform and the "sinking" occurred on dry land in a remote part of western China.
A satellite image reveals two large craters on a 200-meter-long white platform in the Gobi desert used to simulate the flight deck of an aircraft carrier. The photo was first posted on SAORBATS, an internet forum based in Argentina. Military analysts believed the craters would have been created by China's DF-21D anti-ship missile, dubbed the "carrier killer."
I guess the analysis by Business Insider (see below) last year was incorrect. It is a good thing that most of our aircraft carriers are sitting in their home ports.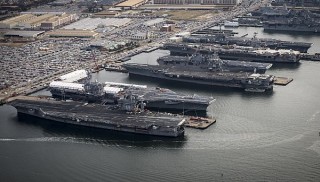 The aircraft carriers USS Dwight D. Eisenhower (CVN-69), USS George H.W. Bush (CVN-77), USS Enterprise (CVN-65), USS Harry S. Truman (CVN-75), and USS Abraham Lincoln (CVN-72) are in port at Naval Station Norfolk, Va. US Navy Photo
Something Is Very Wrong with this Picture.
David DeGerolamo
We've previously added to the hype surrounding China's DF-21D anti-ship ballistic missile (ASBM) – the "carrier-killer" missile that would be the world's first and only ASBM system.
But as time wore on and little proof emerged to back up China's bold claims we backed off and waited for some evidence.
Tuesday Gizmodo published an article by Andrew Tarantola titled "China's DF-21D Missile Is a One-Shot Aircraft Carrier Killer" that says that the DF-21D has "a maximum estimated range of 2,700 to 3,000 km" and is "capable of sinking an aircraft carrier ... with one shot."
More...