Liberals Showing How "Tolerant" They Are
Let me be clear, I am NOT a Trump supporter at all.
Trump is a white Obama and a male Hillary.
Trump has been a LIFE LONG LIBERAL.
I am still #NEVERTRUMP and #DUMPTRUMP…BUT I will NOT riot, burn buildings, cars, or flags, I will NOT riot, get into street brawls, I will NOT sucker punch a Trump supporter- EVER.
We CAN disagree, and even be steadfast and passionate in our disagreement. BUT no one has an excuse to riot, loot, burn and pillage because they didn't get their way- NO ONE.
The rioters, ALL of them from all groups, sides and views are Leftists, aka Marxists. NO Biblical-Christian, NO Constitutional-Conservative EVER behaves this way- NEVER.
Let me posit and article or two with pics to illustrate what is WRONG with The Left:
Boy Beaten Up for Wearing 'Make America Great Again' Hat
(DailyMail.com) A mother of a sixth-grade student is outraged after her son was suspended for getting beaten up on a school bus for wearing a 'Make America Great Again' hat.
Gavin, 12, was filmed being verbally and physically bullied by his Parkway School District peers because he wore his political beliefs on a hat, on Wednesday, in St. Louis, Missouri.
He was suspended after the incident, although he was the one attacked. This caused his mother Christina Cortina to be outraged and she expressed concern over letting him wear the hat again.
Cortina said to News 4: 'As a parent it's so upsetting. I feel like my son was made an example of, it was a tricky situation, it was politically charged.'
Her son was ganged up on by multiple students as one yells 'you want to build a wall? You want to build a f****** wall?' before the situation became physical.
*SOURCE*
and *VIDEO INCLUDED HERE*
Here are more head-lines and links:
Trump Inauguration Riots End With 217 Arrests

*SOURCE*
================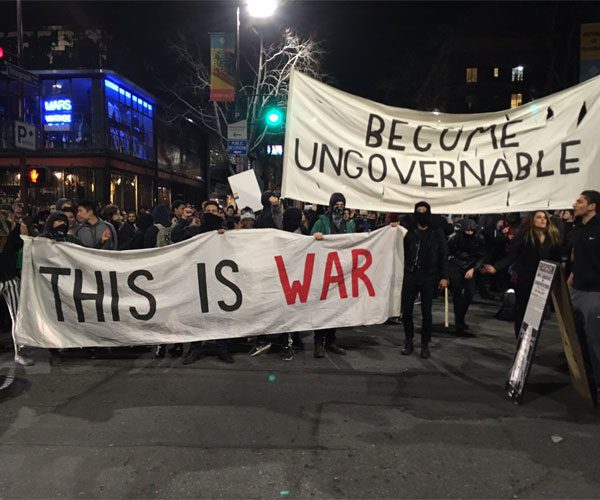 Berkeley rioters attacked man who 'looked like a Nazi' – here's what he actually was

*SOURCE*
==================
Trump threatens to defund U.C. Berkeley following riots, violent protests
*SOURCE*
=======================
Again, I do not support Trump.
But I did not support Nixon, Ford, Carter, Clinton, Al Gore, John Kerry, Hillary nor Obama…and I did not riot, nor support lawlessness.
WHAT IS THE PROPER RESPONSE?
DEBATE.
PETITION.
BOYCOTT.
WRITE LETTERS AND ARTICLES.
PRESENT FACTS, EVIDENCE, QUOTES FROM RELIABLE AND VERIFIABLE SOURCES.
MAKE PHONES CALLS.
CAMPAIGN FOR A CANDIDATE YOU SUPPORT.
RUN FOR OFFICE YOURSELF.
PEACEFULLY PROTEST…
BUT RIOTING, LOOTING, RAPING, PILLAGING AND ARSON ARE NOT ACCEPTABLE, NOT LAWFUL, AND NOT CONSTITUTIONAL.
I FULLY SUPPORT Trump if he cuts off funding to UC Berkeley.
I FULLY SUPPORT Trump if he cuts off funding to sanctuary cities, counties and states, (California is considering becoming a sanctuary state).
Lawlessness must NOT be tolerated ever- PERIOD,
We are either a nation of The Rule of Law, or we are a tyrannical anarchy, aka the rule of man/men.
We can not be both.
 -Rev. Larry Wallenmeyer.