The Crossroads of American Liberty and Survival
"More than any other time in history, mankind faces a crossroads. One path leads to despair and utter hopelessness. The other, to total extinction. Let us pray we have the wisdom to choose correctly."
-Woody Allen.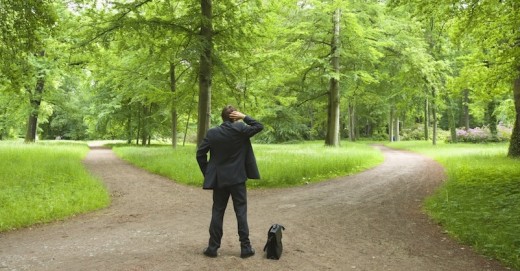 I will let the voice of Ronald Wilson Reagan speak a lot in this write-up…will add as some comments here and there and then a closing summation.
A Time For Choosing
October 27, 1964
*SOURCE*
…one side in this campaign has been telling us that the issues of this election are the maintenance of peace and prosperity. The line has been used, "We've never had it so good."
But I have an uncomfortable feeling that this prosperity isn't something on which we can base our hopes for the future. No nation in history has ever survived a tax burden that reached a third of its national income. Today, 37 cents out of every dollar earned in this country is the tax collector's share, and yet our government continues to spend 17 million dollars a day more than the government takes in. We haven't balanced our budget 28 out of the last 34 years. We've raised our debt limit three times in the last twelve months, and now our national debt is one and a half times bigger than all the combined debts of all the nations of the world. We have 15 billion dollars in gold in our treasury; we don't own an ounce. Foreign dollar claims are 27.3 billion dollars. And we've just had announced that the dollar of 1939 will now purchase 45 cents in its total value…
…As for the peace that we would preserve, I wonder who among us would like to approach the wife or mother whose husband or son has died in South Vietnam and ask them if they think this is a peace that should be maintained indefinitely. Do they mean peace, or do they mean we just want to be left in peace? There can be no real peace while one American is dying some place in the world for the rest of us. We're at war with the most dangerous enemy that has ever faced mankind in his long climb from the swamp to the stars, and it's been said if we lose that war, and in so doing lose this way of freedom of ours, history will record with the greatest astonishment that those who had the most to lose did the least to prevent its happening. Well I think it's time we ask ourselves if we still know the freedoms that were intended for us by the Founding Fathers.
Not too long ago, two friends of mine were talking to a Cuban refugee, a businessman who had escaped from Castro, and in the midst of his story one of my friends turned to the other and said, "We don't know how lucky we are." And the Cuban stopped and said, "How lucky you are? I had someplace to escape to." And in that sentence he told us the entire story. If we lose freedom here, there's no place to escape to. This is the last stand on earth.
And this idea that government is beholden to the people, that it has no other source of power except the sovereign people, is still the newest and the most unique idea in all the long history of man's relation to man.
This is the issue of this election: whether we believe in our capacity for self-government or whether we abandon the American revolution and confess that a little intellectual elite in a far-distant capitol can plan our lives for us better than we can plan them ourselves.
You and I are told increasingly we have to choose between a left or right. Well I'd like to suggest there is no such thing as a left or right. There's only an up or down: [up] man's old — old-aged dream, the ultimate in individual freedom consistent with law and order, or down to the ant heap of totalitarianism. And regardless of their sincerity, their humanitarian motives, those who would trade our freedom for security have embarked on this downward course….
=======
We Will Be A City Upon A Hill
January 25, 1974
First Conservative Political Action Conference
*SOURCE*
I must say to you who have recently, or presently are still receiving an education, I am awed by your powers of resistance. I have some knowledge of the attempts that have been made in many classrooms and lecture halls to persuade you that there is little to admire in America. For the second time in this century, capitalism and the free enterprise are under assault. Privately owned business is blamed for spoiling the environment, exploiting the worker and seducing, if not outright raping, the customer. Those who make the charge have the solution, of course — government regulation and control. We may never get around to explaining how citizens who are so gullible that they can be suckered into buying cereal or soap that they don't need and would not be good for them, can at the same time be astute enough to choose representatives in government to which they would entrust the running of their lives.
Not too long ago, a poll was taken on 2,500 college campuses in this country. Thousands and thousands of responses were obtained. Overwhelmingly, 65, 70, and 75 percent of the students found business responsible, as I have said before, for the things that were wrong in this country. That same number said that government was the solution and should take over the management and the control of private business. Eighty percent of the respondents said they wanted government to keep its paws out of their private lives.
We are told every day that the assembly-line worker is becoming a dull-witted robot and that mass production results in standardization. Well, there isn't a socialist country in the world that would not give its copy of Karl Marx for our standardization.
Standardization means production for the masses and the assembly line means more leisure for the worker — freedom from backbreaking and mind-dulling drudgery that man had known for centuries past. Karl Marx did not abolish child labor or free the women from working in the coal mines in England – the steam engine and modern machinery did that.
Unfortunately, the disciples of the new order have had a hand in determining too much policy in recent decades. Government has grown in size and power and cost through the New Deal, the Fair Deal, the New Frontier and the Great Society. It costs more for government today than a family pays for food, shelter and clothing combined. Not even the Office of Management and Budget knows how many boards, commissions, bureaus and agencies there are in the federal government, but the federal registry, listing their regulations, is just a few pages short of being as big as the Encyclopedia Britannica…
…One Congressman found the federal government was spending 4 billion dollars on research in its own laboratories but did not know where they were, how many people were working in them, or what they were doing. One of the research projects was "The Demography of Happiness," and for 249,000 dollars we found that "people who make more money are happier than people who make less, young people are happier than old people, and people who are healthier are happier than people who are sick." For 15 cents they could have bought an Almanac and read the old bromide, "It's better to be rich, young and healthy, than poor, old and sick."
The course that you have chosen is far more in tune with the hopes and aspirations of our people than are those who would sacrifice freedom for some fancied security.
Standing on the tiny deck of the Arabella in 1630 off the Massachusetts coast, John Winthrop said, "We will be as a city upon a hill. The eyes of all people are upon us, so that if we deal falsely with our God in this work we have undertaken and so cause Him to withdraw His present help from us, we shall be made a story and a byword throughout the world." Well, we have not dealt falsely with our God, even if He is temporarily suspended from the classroom… 
…One-half of all the economic activity in the entire history of man has taken place in this republic. We have distributed our wealth more widely among our people than any society known to man. Americans work less hours for a higher standard of living than any other people. Ninety-five percent of all our families have an adequate daily intake of nutrients — and a part of the five percent that don't are trying to lose weight! Ninety-nine percent have gas or electric refrigeration, 92 percent have televisions, and an equal number have telephones. There are 120 million cars on our streets and highways — and all of them are on the street at once when you are trying to get home at night. But isn't this just proof of our materialism — the very thing that we are charged with? Well, we also have more churches, more libraries, we support voluntarily more symphony orchestras, and opera companies, non-profit theaters, and publish more books than all the other nations of the world put together.
Somehow America has bred a kindliness into our people unmatched anywhere, as has been pointed out in that best-selling record by a Canadian journalist. We are not a sick society. A sick society could not produce the men that set foot on the moon, or who are now circling the earth above us in the Skylab. A sick society bereft of morality and courage did not produce the men who went through those years of torture and captivity in Vietnam. Where did we find such men? They are typical of this land as the Founding Fathers were typical. We found them in our streets, in the offices, the shops and the working places of our country and on the farms.
We cannot escape our destiny, nor should we try to do so. The leadership of the free world was thrust upon us two centuries ago in that little hall of Philadelphia. In the days following World War II, when the economic strength and power of America was all that stood between the world and the return to the dark ages, Pope Pius XII said, "The American people have a great genius for splendid and unselfish actions. Into the hands of America God has placed the destinies of an afflicted mankind."
We are indeed, and we are today, the last best hope of man on earth.
=======
AND, LASTLY from Reagan:
Let Them Go Their Way
March 1, 1975
2nd Annual CPAC Convention
*SOURCE*
…This is no time to repeat the shopworn panaceas of the New Deal, the Fair Deal and the Great Society. John Kenneth Galbraith, who, in my opinion, is living proof that economics is an inexact science, has written a new book. It is called "Economics and the Public Purpose." In it, he asserts that market arrangements in our economy have given us inadequate housing, terrible mass transit, poor health care and a host of other miseries. And then, for the first time to my knowledge, he advances socialism as the answer to our problems.
Shorn of all side issues and extraneous matter, the problem underlying all others is the worldwide contest for the hearts and minds of mankind. Do we find the answers to human misery in freedom as it is known, or do we sink into the deadly dullness of the Socialist ant heap?
Those who suggest that the latter is some kind of solution are, I think, open to challenge. Let's have no more theorizing when actual comparison is possible. There is in the world a great nation, larger than ours in territory and populated with 250 million capable people. It is rich in resources and has had more than 50 uninterrupted years to practice socialism without opposition.
We could match them, but it would take a little doing on our part. We'd have to cut our paychecks back by 75 percent; move 60 million workers back to the farm; abandon two-thirds of our steel-making capacity; destroy 40 million television sets; tear up 14 of every 15 miles of highway; junk 19 of every 20 automobiles; tear up two-thirds of our railroad track; knock down 70 percent of our houses; and rip out nine out of every 10 telephones. Then, all we have to do is find a capitalist country to sell us wheat on credit to keep us from starving!
Our people are in a time of discontent. Our vital energy supplies are threatened by possibly the most powerful cartel in human history. Our traditional allies in Western Europe are experiencing political and economic instability bordering on chaos.
We seem to be increasingly alone in a world grown more hostile, but we let our defenses shrink to pre-Pearl Harbor levels. And we are conscious that in Moscow the crash build-up of arms continues. The SALT II agreement in Vladivostok, if not re-negotiated, guarantees the Soviets a clear missile superiority sufficient to make a "first strike" possible, with little fear of reprisal. Yet, too many congressmen demand further cuts in our own defenses, including delay if not cancellation of the B-1 bomber.
I realize that millions of Americans are sick of hearing about Indochina, and perhaps it is politically unwise to talk of our obligation to Cambodia and South Vietnam. But we pledged — in an agreement that brought our men home and freed our prisoners — to give our allies arms and ammunition to replace on a one-for-one basis what they expend in resisting the aggression of the Communists who are violating the cease-fire and are fully aided by their Soviet and Red Chinese allies. Congress has already reduced the appropriation to half of what they need and threatens to reduce it even more.
Can we live with ourselves if we, as a nation, betray our friends and ignore our pledged word? And, if we do, who would ever trust us again? To consider committing such an act so contrary to our deepest ideals is symptomatic of the erosion of standards and values. And this adds to our discontent.
We did not seek world leadership; it was thrust upon us. It has been our destiny almost from the first moment this land was settled. If we fail to keep our rendezvous with destiny or, as John Winthrop said in 1630, "Deal falsely with our God," we shall be made "a story and byword throughout the world."
Americans are hungry to feel once again a sense of mission and greatness.
I don 't know about you, but I am impatient with those Republicans who after the last election rushed into print saying, "We must broaden the base of our party" — when what they meant was to fuzz up and blur even more the differences between ourselves and our opponents.
It was a feeling that there was not a sufficient difference now between the parties that kept a majority of the voters away from the polls. When have we ever advocated a closed-door policy? Who has ever been barred from participating?
Our people look for a cause to believe in. Is it a third party we need, or is it a new and revitalized second party, raising a banner of no pale pastels, but bold colors which make it unmistakably clear where we stand on all of the issues troubling the people?
Let us show that we stand for fiscal integrity and sound money and above all for an end to deficit spending, with ultimate retirement of the national debt.
Let us also include a permanent limit on the percentage of the people's earnings government can take without their consent.
Let our banner proclaim a genuine tax reform that will begin by simplifying the income tax so that workers can compute their obligation without having to employ legal help.
And let it provide indexing — adjusting the brackets to the cost of living — so that an increase in salary merely to keep pace with inflation does not move the taxpayer into a surtax bracket. Failure to provide this means an increase in government's share and would make the worker worse off than he was before he got the raise.
Let our banner proclaim our belief in a free market as the greatest provider for the people. Let us also call for an end to the nit-picking, the harassment and over-regulation of business and industry which restricts expansion and our ability to compete in world markets.
Let us explore ways to ward off socialism, not by increasing government's coercive power, but by increasing participation by the people in the ownership of our industrial machine.
Our banner must recognize the responsibility of government to protect the law-abiding, holding those who commit misdeeds personally accountable.
And we must make it plain to international adventurers that our love of peace stops short of "peace at any price."
We will maintain whatever level of strength is necessary to preserve our free way of life.
A political party cannot be all things to all people. It must represent certain fundamental beliefs which must not be compromised to political expediency, or simply to swell its numbers.
I do not believe I have proposed anything that is contrary to what has been considered Republican principle. It is at the same time the very basis of conservatism. It is time to reassert that principle and raise it to full view. And if there are those who cannot subscribe to these principles, then let them go their way.
=======
My closing words:
We are told daily that our choices are from two main, and two sub choices. All four are varying shades of SOCILAISM.
The Commie pinko-ism of Gary Johnson, Liberaltarian.
The Softer-Marxism of Jill Stein, Green Party. Actually The Watermelon Party, Enviro-wacko Green outside and Commie-Red inside.
The Hard-Core, Hard-Left Stalinist-Marxism of either Hitlary or El Trampo…both with a temper on steroids.
NOT ONE of those choices is adequate for Life, Liberty and The Pursuit of Happiness.
So, FOR Life, Liberty, and The Pursuit of Happiness I am voting FOR Ecan McMullin.
IF EVERY Conservative AND EVERY Christian voted FOR Evan McMullin he would WIN…and we would have an honest, decent, competent man who IS a REAL/GENUINE Constitutional-Conservative as President.

Let me close as I opened…
"More than any other time in history, mankind faces a crossroads. One path leads to despair and utter hopelessness. The other, to total extinction. Let us pray we have the wisdom to choose correctly."
 

-Woody Allen.
vote  FOR The Constitution,
VOTE FOR EVAN MCMULLIN.
 -Rev. Larry Wallenmeyer.